$16 million investment to expand its engineering and manufacturing campus in Charlotte, Mich.
Only company to design and manufacture full vehicle in-house for the Class 3-5 EV segment
EV production to start mid-2023
NOVI, Mich., Feb. 07, 2023 (GLOBE NEWSWIRE) — The Shyft Group (NASDAQ: SHYF) announces today plans to invest in and expand the company's facilities in Charlotte, Mich., which will enable production of commercial electric vehicles for its Blue Arc™ EV Solutions brand, launched last year. Shyft will invest approximately $16 million for expansion and improvements in facilities as well as new equipment related to the production of EVs.
"We're extremely proud to invest in EV production here in our home state of Michigan where our company has been headquartered for nearly 50 years," said President and CEO Daryl Adams. "We are thankful to be part of the Charlotte community and look forward to bringing the future of fleets to our operations there."
The Charlotte campus, with seven facilities, is currently home to multiple Shyft product lines, including walk-in delivery vans, motorhome chassis, and work truck chassis. The addition of Blue Arc EV production will help support the company's previous commitment towards employment levels on the Charlotte campus, with Blue Arc bringing a wide range of engineering, manufacturing and technical jobs to Charlotte.
With the expansion, upgrades to facilities, and installation of new equipment, Shyft will have the capacity to produce up to 3,000 EVs per year in Charlotte. The company previously announced an initial customer pre-order for 2,000 Class 3, 4 and 5 all-electric delivery vehicles.
The Shyft Group's expansion is being supported by co-investment and business incentives from the city of Charlotte, the Lansing Economic Area Partnership (LEAP), and the Michigan Economic Development Corporation (MEDC).
"Congratulations to the Shyft team on your continued growth and success. This investment underscores the strength of your business powered by our state's talented workforce and leadership in mobility and advanced manufacturing," said Quentin Messer, Jr., CEO of the MEDC and President and Chair of the Michigan Strategic Fund. "We are grateful to the Governor, bipartisan legislators, and local officials for their continued support of the Jobs Ready Michigan Program, which supports upskilling and training opportunities for our friends and neighbors across the state. We're grateful to Shyft for this vote of confidence in Michigan and look forward to working together to grow, add jobs, and provide greater opportunity in Mid-Michigan."
"This is another critical addition to the growing EV Capital of America here in Lansing Michigan region," said Bob Trezise, president and CEO of LEAP. "From their family-owned roots in Charlotte, the Shyft Group's impressive growth into an innovative global heavyweight industry player has blossomed under CEO Daryl Adam's leadership and team. The competition from other communities and states is intense for a growing company like Shyft and overall for electric vehicle and adjacent industry projects. Shyft's continued commitment to invest locally has been clear and our region is better off because of it."
"That Charlotte will be home to this important commercial segment of the EV vehicle market is fantastic news," said Mayor Michael Armitage. "The Shyft Group has been a vital part of the city's business community for many, many years and we are proud to continue partnering with their growing company."
Poised to lead as the only player designing and manufacturing integrated chassis and specialty bodies in-house for the Class 3-5 segment, Blue Arc EV Solutions has selected leading automotive suppliers for key vehicle systems and subsystems in the EV chassis and the fully reimagined all-electric delivery walk-in van.
The Shyft Group
The Shyft Group is the North American leader in specialty vehicle manufacturing, assembly, and upfit for the commercial, retail, and service specialty vehicle markets. Our customers include first-to-last mile delivery companies across vocations, federal, state, and local government entities; the trades; and utility and infrastructure segments. The Shyft Group is organized into two core business units: Shyft Fleet Vehicles & Services™ and Shyft Specialty Vehicles™. Today, its family of brands include Blue Arc™ EV Solutions, Utilimaster®, Royal Truck Body™, DuraMag® and Magnum®, Strobes-R-Us™, Spartan RV Chassis™, Red Diamond™ Aftermarket Solutions, and Builtmore Contract Manufacturing™. The Shyft Group and its go-to-market brands are well known in their respective industries for quality, durability, and first-to-market innovation. The Company employs approximately 3,800 employees and contractors across campuses, and operates facilities in Michigan, Indiana, Maine, Pennsylvania, South Carolina, Florida, Missouri, California, Arizona, Texas, and Saltillo, Mexico. The Company reported sales of $992 million in 2021. Learn more about The Shyft Group at TheShyftGroup.com.
CONTACTS
Media:
Carrie Wright
Chief Marketing & Communications Officer
[email protected]
313.495.2904
Scott Worden
Senior Director
Lambert & Co.
[email protected]
248.825.9343
Investors:
Randy Wilson
Vice President, Investor Relations and Treasury
The Shyft Group
[email protected]
248-727-3755
A photo accompanying this announcement is available at https://www.globenewswire.com/NewsRoom/AttachmentNg/4121b40f-1b2c-4424-ba2c-81e0fe86492b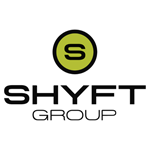 Source: The Shyft Group, Inc.