Kermisch brings expertise in commercial go-to-market strategy and execution
NOVI, Mich., March 21, 2023 (GLOBE NEWSWIRE) — The Shyft Group, Inc. (NASDAQ: SHYF), the North American leader in specialty vehicle manufacturing, assembly, and upfit for the commercial, retail, and service specialty vehicle markets, today announced that Pamela (Pam) Kermisch, Chief Customer Growth Officer at Polaris, has been appointed to the Company's Board of Directors, effective March 20, 2023.
"We are pleased to welcome Pam Kermisch to the Shyft Board," said James Sharman, Chair of the Shyft Board. "Pam brings a proven track record of successfully guiding brand strategy and positioning as well as dealer/retail marketing. In addition, her operational expertise in commercial strategy, insights and analytics, digital transformation, and customer experience will complement our existing Board. Pam's success in leading enterprise-wide marketing and customer growth activities will bring invaluable perspective and insights as Shyft goes to market with electric vehicles for commercial fleets and more."
Since January 2018, Kermisch has served as the Chief Customer Growth Officer at Polaris Inc., the global leader in powersports. She is responsible for helping to deepen Polaris' relationships with its existing valued customers, while also expanding brand awareness and connecting with new consumer bases. Kermisch joined Polaris in 2015 and previously served as the Vice President Off-Road Vehicle Marketing and Polaris' On Road business, which includes Indian Motorcycle and Slingshot. In both roles, she was responsible for building a pipeline of potential customers, converting riders from shop to buy, and continuing to build the brand experience with owners.
Prior to her positions at Polaris, Kermisch served as the Integrated Marketing Director for General Mills, a global manufacturer of consumer-packaged goods, from 2006 to 2015, where she led integrated marketing for some of its largest brands and key strategic efforts such as Box Tops for Education, expansion in multicultural marketing, and partnerships and licensing. She currently serves on the Greater Twin Cities United Way Board of Directors and the Marketing Department Advisory Board of the University of Arizona Eller School of Business.
About The Shyft Group
The Shyft Group is the North American leader in specialty vehicle manufacturing, assembly, and upfit for the commercial, retail, and service specialty vehicle markets. Our customers include first-to-last mile delivery companies across vocations, federal, state, and local government entities; the trades; and utility and infrastructure segments. The Shyft Group is organized into two core business units: Shyft Fleet Vehicles & Services™ and Shyft Specialty Vehicles™. Today, its family of brands include Blue Arc™ EV Solutions, Utilimaster®, Royal® Truck Body, DuraMag® and Magnum®, Strobes-R-Us, Spartan® RV Chassis, Red Diamond™ Aftermarket Solutions, and Builtmore Contract Manufacturing™. The Shyft Group and its go-to-market brands are well known in their respective industries for quality, durability, and first-to-market innovation. The Company employs approximately 4,200 employees and contractors across campuses, and operates facilities in Michigan, Indiana, Maine, Pennsylvania, South Carolina, Florida, Missouri, California, Arizona, Tennessee, Texas, and Saltillo, Mexico. The Company reported sales of $1.0 billion in 2022. Learn more about The Shyft Group at TheShyftGroup.com.
CONTACTS
Media:
Carrie Wright
Chief Marketing & Communications Officer
The Shyft Group
[email protected]
313.495.2904
Scott Worden
Senior Director
Lambert & Co.
[email protected]
248.825.9343
Investors:
Randy Wilson
VP, Investor Relations and Group Treasurer
The Shyft Group
[email protected]
947.622.4873
A photo accompanying this announcement is available at https://www.globenewswire.com/NewsRoom/AttachmentNg/1cf28c34-4f35-44e6-9abf-a591c706e11e.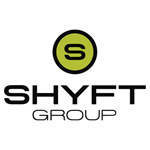 Source: The Shyft Group, Inc.